Text below freely adapted from HP's official specs, plus pointers to other sites)
It contains in ROM MS-DOS 5.0 plus a Lotus 1-2-3 plus an excellent Lotus designed set of PIM applications.
It is the only PDA with a separate numeric keypad ( as far as we know).
It has an Intel 80186 derived CPU running at 7.91 Mhz, and up to 4MB memory onboard as standard, plus optionally extra memory on a memory extension board.
And using an LX may be addictive!!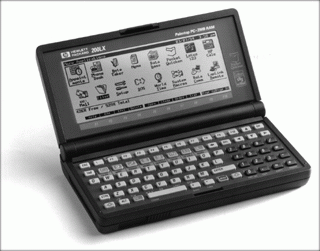 And, as you can see on this website, or others, memory extensions (sometimes up to 64MB) and double speed upgrades are available. And you can still get support and maintenance here on
200lx.net
, at
Thaddeus
or - instructions for self repair only- at
Daniel Hertrich's hermocom website
Other definitions:
The 'competition' (Thaddeus) :
http://www.palmtoppaper.com/HP200.asp
Ask HP by downloading the manual (PDF)
HP 200LX Palmtop - (English) User's Guide
And if you want to know ALL about the 200LX:  
Daniel Hertrich's website
.
Specs in general:
Dimensions:16 x 8.64 x 2.54cm (6.3" x 3.4" x 1")  (e.g.
really pocketsized!
)
Weight:312g (11oz) with batteries
Built-in applications
MS DOS 5.0
Pocket Quicken
Lotus 1-2-3 release 2.4
cc:mail Remote
Data communicatons
Appointment Book
Phone Book
HP Financial Calculator
Memo Editor with Outliner
Notetaker
Database
Filer
World Time and Stopwatch
Application Manager
System Macros
Setup Utility
And a near infinity of applications freely available at the
SUPER site
. Limitations are: Up to CGA graphics, and runs allmost all  MS-DOS real mode applications.
Memory (as last sold by HP)
3 MB ROM
2 MB RAM (HP F1061A), 4 MB RAM (HP F1216A) 
PCMCIA version 2.0 card slot
Read and write to flash disk cards
Standard PC Architecture and Central Processing Unit (CPU)
IBM PC architecture
Intel 80 C186 CPU running at 7.91 Mhz
Display
CGA-compatible FTN liquid crystal
80 columns by 25 rows, 640 x 200 pixels
Zoom options
Keyboard layout
Familiar QWERTY layout ( also other language layouts available!)

Note: Spanish, French and German versions abound. But many other languages are inside natively supported! Czech, Hebrew, Russian etc. You'l need some 'rub-off ' lettering for your keyboard. 

 

Separate numeric keypad
10 function keys
8 software application access key
Input/output
Built-in 9 wire serial interface for connection to RS-232 devices
Built-in infrared transmitter/receiver up to 115K bps for HP 200 LX to HP 200 LX and other wireless communications.
Built-in printer driver supporting these serial printer types:HP Laserjet, Epson FX-80, IBM ProPrinter
PCMCIA version 2.0 plug in card slot for running PC software and expanding I/O memory: optional disk card available
Optional HP F1021 B Connectivity Pack for file transfers between an HP 200 LX and a DOS compatible PC
Power
Two 1.5V AA main batteries  
One 3V CR2032 coin cell backup battery
Optional 1.5V AA rechargeable batteries

Note: Runs many days on NiMH rechargeable photo batteries. Use ABC/LX  for charging these NiMH's)

Optional adapter: HP F1011 A available in worldwide configurations for powering unit and recharging Ni Cd batteries

Note: This is a ' negative tip' 12V .8A charger. Most standard chargers are 'positive tip'

: Watch out for this.
But most any 10-12 volt

negative tip

.8A or higher

will do.  (Preferably a 

switched power supply)

.  
Operating Requirements
Operating temperature 0º to 40ºC (32º to 104ºF)
Storage temperature 0º to 60ºC (32º to 140ºF)
Humidity :90% relative humidity 40ºC (104ºF ) maximum
What does a 200LX 
not
have:
- backlight. Perfect in daylight or bright lighting though.
- MS-Windows support (unless you want to use Windows 3.0, then it also runs Word 2.0 and Excel 1.0 for Windows, slowly.)
- WIFI support
- Linux support - but there is a nice set of  MS-DOS executables from awk to xstr available. Ask us where.
- A printer port
Let's accept it, obsolete hardware except for a few tens of thousands diehards. Therefore this site exists. We are a stubborn lot. But we have parts enough for several years. And a limited amount of complete systems.
A website developed by
BelConsult