200LX.NET - The LX parts shop
(everything strictly second hand unless stated otherwise)



The screen case is the top of the clamshell of the LX. A known problem is that the right hinge may develop a hairline crack which, if not treated, continues to grow until the hinge fully breaks. Repair is possible as long as the hinge is not fully broken by glueing the hinge with special dual component epoxy glues or with super glue.
Examples:
Daniel Hertichs examples.
Another problem is a broken latch.The latch is kept closed by torsion of very thin plastic springs. The springs are very thin pieces of plastic which wear out and break. This problem is easily repaired with a bit of rubber or a drop of silicone kit.
Examples:
Daniel Hertrichs examples.
We do not have sufficient intact latches available, but if your latch is really ugly we will send a nicer one (still without springs though).
Replacement of the screen case is possible. For this you need to take the 200LX fully apart to remove the screen case and to move the screen into the replacement case. See
Daniel Hertrich's website.
All screen cases come with an unbroken hinge - that is exactly what this page is about. However, we do not have sufficient latches for repair. So we do NOT guarantee a non-broken latch. A latch may have been repaired with a rubber spring.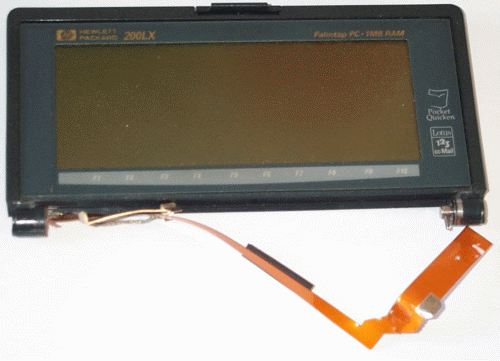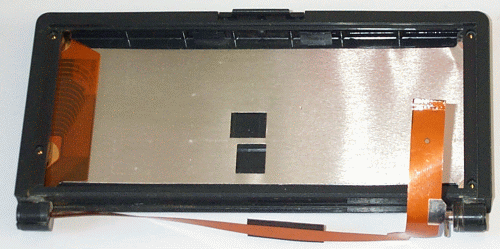 We sell:
Complete screen case : USD 36.00 or EU 30.00
Complete screen case with connected screen flat cable at USD 48.00 or EU 40.00
Complete screen case with flatcable and good screen - USD 108.00 or EU 90.00
Orders